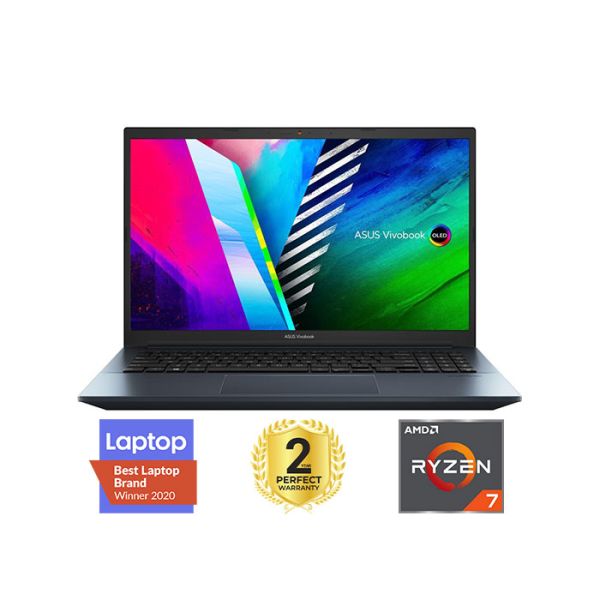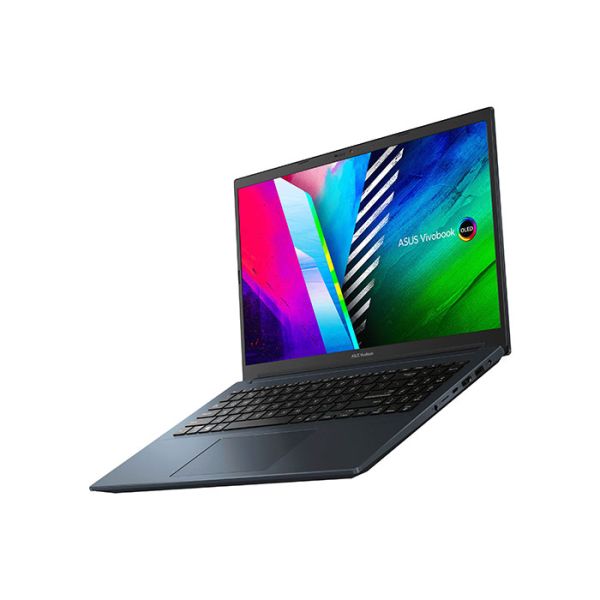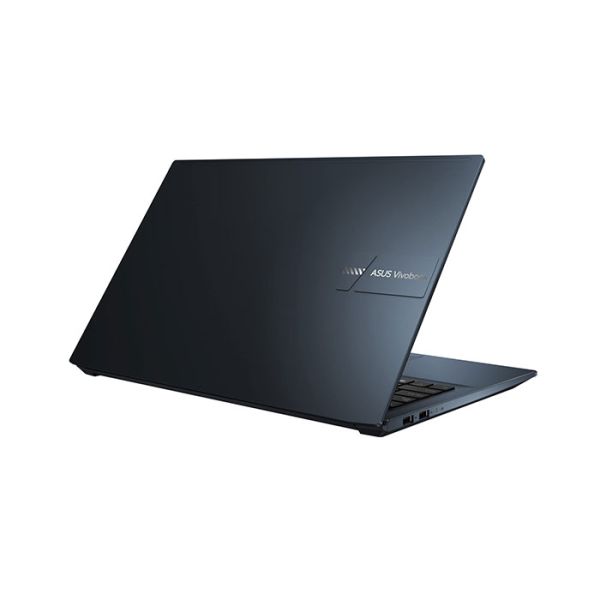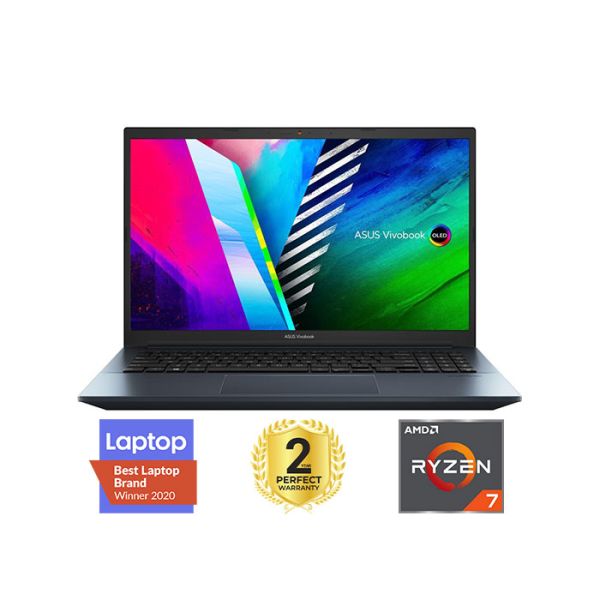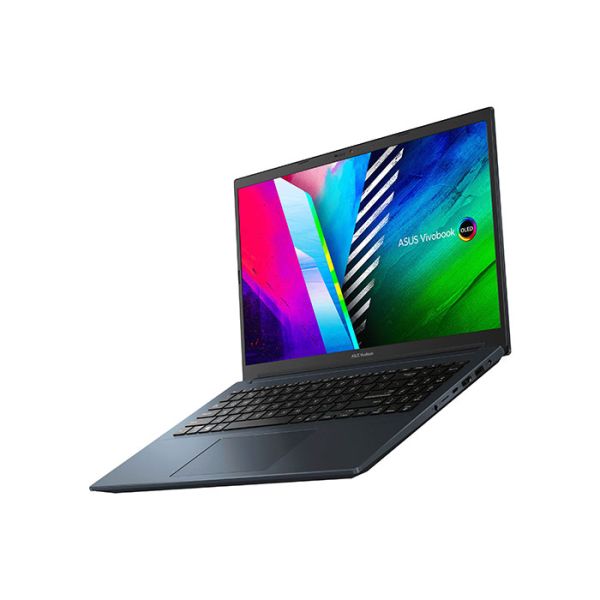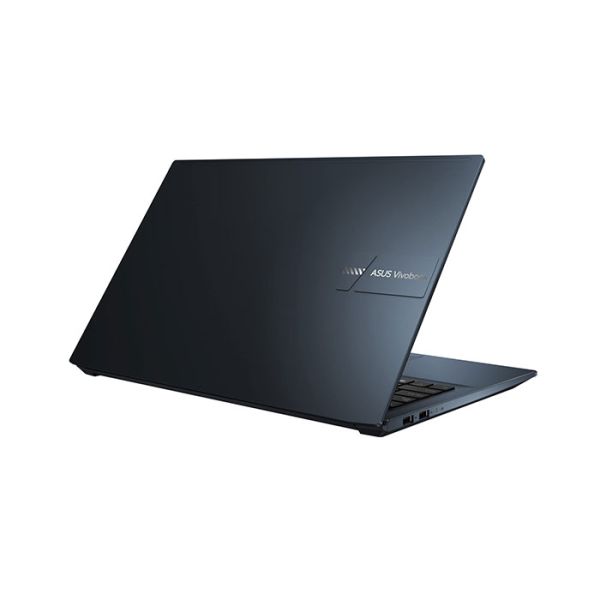 Asus Vivobook Pro 15 D3500QC-OLED007W Ryzen7(5800H)-16GB-SSD 512GB-RTX3050-4GB-15.6 FHD OLED-Win11-Quiet Blue
Request a quote for prices
Processor: Ryzen7(5800H)
Battery:63WHrs, 3S1P, 3-cell Li-ion
Ram:16GB
Screen size:15.6″
Screen resolution: FHD (1920 x 1080) OLED
Hard Disk:512GBSSD
Compare
Description
ASUS Vivobook Pro 15 D3500QC-OLED007W Ryzen 7 5800H 16GB 512GB RTX 3050
ASUS Vivobook Pro 15 D3500QC-OLED007W immerses you in everything you do, be it work or play. Powered by the latest AMD Ryzen™ 7 5800H-Series CPU with NVIDIA GeForce RTX 3050 graphics and dual-fan cooling, and featuring ultra-fast WiFi 6, the ultra-stylish Vivobook Pro 15 OLED is the key to expressing your true potential.
It's time to show the world your new vibrant vision! Vivobook Pro 15 OLED lets you express your true colors, with a stunningly vivid 15-inch NanoEdge FHD OLED1 display and stunning Harman Kardon-certified sound.
ASUS Vivobook Pro 15 D3500QC-OLED007W laptop features
Unleash the potential
The ASUS Vivobook Pro 15 D3500QC-OLED007W Laptop is ready and waiting to take you on a journey of discovery. Whatever you want to do—browse, create, or play—the latest 11th Gen Intel® H-series CPU with NVIDIA® GeForce® RTX™ 3050 graphics, up to 16GB memory,512GB M.2 NVMe™ PCIe® 3.0 SSD gives you all the power you need. You need it to realize your visual creativity. GeForce RTX GPUs deliver enhanced ray tracing and AI capabilities for creators who need next-level performance. Present faster, stream clearer, and edit video better with NVIDIA GPUs in Studio laptops and desktops.
Discover a new view of the world
Expand your vision beyond boundaries and immerse yourself in Vivobook Pro 15's stunning 16:9 OLED display. The FHD OLED1 NanoEdge display is ultra-bright – up to 600 nits – and has an 84% screen-to-body ratio, along with a 100 color gamut % DCI-P3 for extremely vivid colours. It's also PANTONE® validated for professional color accuracy and TÜV Rheinland certified for low blue light emissions. Let Vivobook Pro 15 OLED guide you on your creative journey, with a fresh and new visual experience.
Ultra professional colours
ASUS OLED laptops deliver exceptionally detailed and realistic visuals, with a 100% cinematic-grade DCI-P3 color gamut. This means that colors reproduced on screen are richer and more vibrant: ideal for color-intensive projects, but also enhance any type of content.
ASUS OLED laptops maintain 100% DCI-P3 color gamut at both high and low brightness levels, while in an LCD laptop the color gamut is significantly reduced at lower brightness levels. At 16G gray level brightness, LCD laptops have only 11% of the DCI-P3 color gamut, while ASUS OLED laptops maintain 100% of the DCI-P3 color gamut.
70% reduce blue light for eye care
Blue light is known to cause visual discomfort and disrupt sleep quality. However, due to the nature of the special organic light materials in the OLED screen, ASUS OLED laptops emit 70% less harmful blue light and are also certified by TÜV Rheinland and SGS. Most importantly, unlike traditional blue light filters, spectrum shifting means there is no need to compromise on color accuracy.
Eye care, more important for children
Because children's eyes are not fully developed, with a more transparent lens and cornea, harmful blue light can penetrate the eyes more easily, which can cause premature aging of the retina.
Less blue light, better eye care
Research3 has shown that in the eyes of a five-year-old, approximately 60% of the blue light emissions received pass to the retina, compared to only about 20% for a 60-year-old adult. With ASUS OLED displays, significantly lower blue light levels mean better eye care for kids.
OLED has a color volume of 1.6x compared to LCD
On conventional LCD screens, color and detail quality usually drop dramatically as brightness decreases. But ASUS OLED laptops are able to display great detail at lower brightness settings due to their high contrast and ability to maintain a wide color gamut with low brightness. When accounting for 3D color volume — which adds lightness to the traditional 2D color gamut — ASUS OLED screens have 60% higher color volume, providing better color performance at any brightness level.
OLED has a much higher perceptual brightness
ASUS OLED laptops can maintain good color reproduction at any brightness level, so you can freely adjust screen brightness to suit your work environment, while enjoying exceptionally vivid colors. For example, in a living room environment (typically lit at about 100 lux), you only need 177 nits of brightness in an OLED screen to produce the same clear picture as 400 nits of brightness in an LCD. At the lower brightness levels required for OLED screens, less harmful blue light is emitted.
True Black: See the Unseen
ASUS Vivobook Pro 15 D3500QC-OLED007W reproduces blacks perfectly. An OLED pixel is made up of three sub-pixels, each of which is self-illuminating: a Full HD (1920 x 1080) display has 2,073,600 pixels, which means it has 6,220,800 self-illuminating sub-pixels, compared to just a few dozen backlit LED in full HD LCD screen. When black is displayed on an OLED display, the pixels are simply turned off to produce the darkest possible black. This enables crystal clear images even in the darkest scenes. You will be surprised how many new details you will discover in your favorite movies!
Fastest response time on any laptop for smooth actions
ASUS OLED displays have a response time of 0.2ms – the fastest of any laptop, and 50 times faster4 than the average laptop LCD. In fact, most laptop LCD screens have a response time of between 10 and 25ms. This ensures smoother, faster action scenes, low-latency gameplay, and fine details like blur-free text scrolling.
You are the real inspiration
Let ASUS Vivobook Pro 15 D3500QC-OLED007W inspire you to make a difference, with bold, unique colors that reflect your positive and diverse outlook. Choose from cool blue calm or cool silver – pick the one that best expresses your true spirit!
Designed to impress
Forget the ordinary, embrace the Vivobook. The unique 3D ASUS logo, with its anodized chevron pattern and tactile texture, adds excitement even before you open the lid. Explore further, and see how the expressive design continues inside, where the cautionary striped Enter key takes center stage.
Ready anywhere
ASUS Vivobook Pro 15 D3500QC-OLED007W keeps you productive and entertained, even when you're on the go. With a total weight of just 1.65kg, the Vivobook Pro 15 OLED simply slips into your backpack so it goes wherever you go, so get out there and show the world who you are.
Stay calm and stay productive
Heat is the enemy of performance. ASUS Vivobook Pro 15 D3500QC-OLED007W is always cool, thanks to its highly efficient dual cooling system. This advanced cooling design ensures that your laptop stays cool to give you maximum performance, anytime and anywhere. ASUS IceCool Plus technology maximizes performance even in a thin and light form factor, with 3 fan profiles to choose from in MyASUS based on personal needs.
Faster connection to the future
Step away from your desk and into the future – whether that's at home, in a downtown coffee shop, or at the airport. Your workspace anywhere you want. ASUS Vivobook Pro 15 D3500QC-OLED007W is equipped with WiFi 6 (802.11ax), which delivers blazing-fast networking speeds for faster transfer of large files, responsive online gaming, and ultra-smooth video chats. It's also enhanced with exclusive ASUS WiFi Master technology: this includes ASUS WiFi SmartConnect which automatically selects the best WiFi source, so your laptop easily connects to the best WiFi signal and known mobile hotspots.
Excellent sound that will rock your world
Treat your ears to the incredibly good Harman Kardon certified audio system in the Vivobook Pro 15 OLED. With Vivobook Pro 15 OLED, your movies and games are brought to life in wonderfully immersive sound.
Next-level ASUS AI noise canceling technology
With the increase in telework and video conferencing, we've introduced ASUS AI Noise-Canceling technology to ensure the best communication experience. This technology uses machine learning to isolate unwanted noise from human speech. The ClearVoice Mic feature in the MyASUS app can filter out ambient noise, and Multi-Presenter mode evens out all individual voices from different positions for the best quality conference call. ClearVoice Speaker filters out all ambient noise apart from human speech – so you hear what others are saying. Try the demo to experience the amazing difference AI noise cancellation technology can make in different environments.
Safe and secure
With an integrated webcam shield and integrated fingerprint sensor, Vivobook Pro 15 OLED takes care of your privacy and security.
Make it private
Your privacy matters, so Vivobook Pro 15 OLED has an integrated privacy protector that slides over the webcam for instant privacy, protecting you from prying eyes and disturbances.
One-touch login with the power button
Accessing your Vivobook Pro 15 OLED has never been easier and more secure. With a 7-inch fingerprint sensor on the power button and Windows Hello, there's no need to type in your password every time — all you need is one touch.
All connections
ASUS Vivobook Pro 15 D3500QC-OLED007W keeps you fully connected, with comprehensive I/O ports including a Thunderbolt™ 4 USB-C port in either direction, USB 3.2 Gen 1 Type-A and USB 2.0 ports, plus an HDMI port and card reader microSD – so you can easily connect your latest peripherals, monitors or projectors without any hassle. Additionally, Thunderbolt™ 4 USB-C® Easy Charge support means ASUS Vivobook Pro 15 D3500QC-OLED007W can be used with a wide range of standard 5-20V USB-C chargers. You can enjoy ultra-fast, hassle-free charging with any PD (Power Delivery) certified charger, including the 120W ASUS Fast Charging Adapter.
correct to write
Interacting with ASUS Vivobook Pro 15 D3500QC-OLED007W is now easier than ever. We've improved the touchpad and enlarged it by 27%8, giving you smoother and more responsive fingertip control. The Vivobook Pro 15 OLED's full-size, backlit keyboard is ideal for working in low-light environments. Ergonomically designed, its sturdy one-piece construction and 1.35mm key travel provide an extremely comfortable typing experience.
Get the most out of your laptop with MyASUS
MyASUS is the easy way to access the ASUS apps that help you get the most out of your Vivobook Pro 15 OLED. Bundle your iOS or Android phone with your laptop, improve performance, or contact our after-sales service and support. You can also take advantage of a wide range of popular app downloads and exclusive offers!