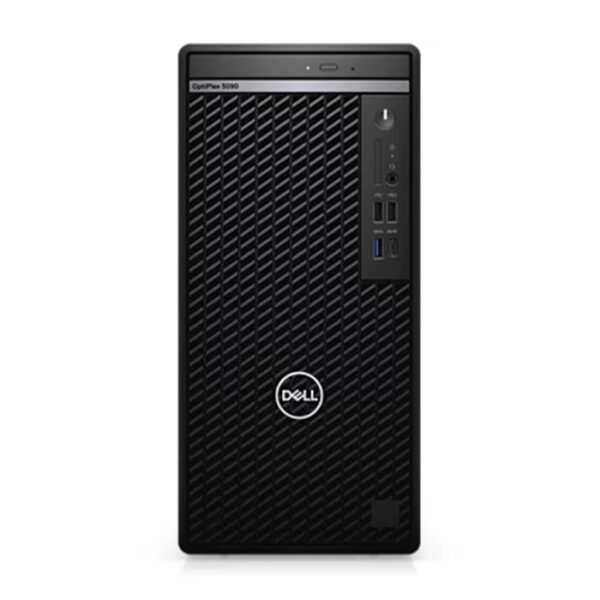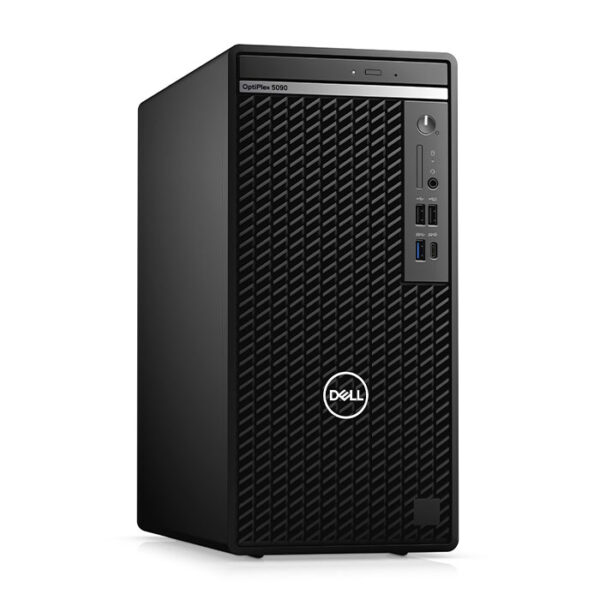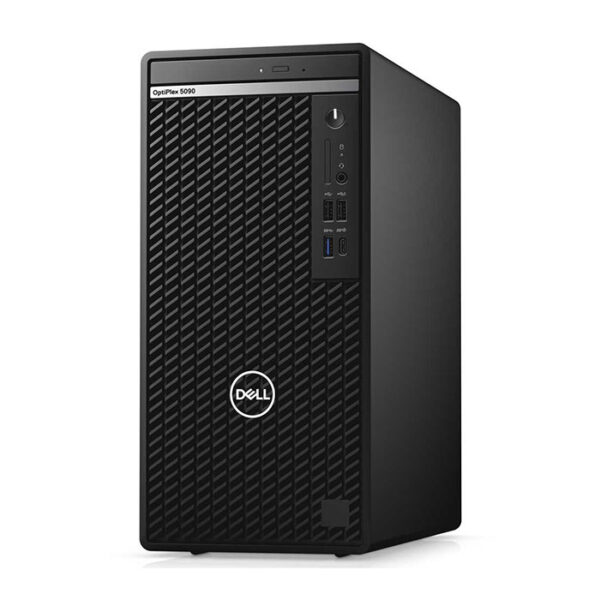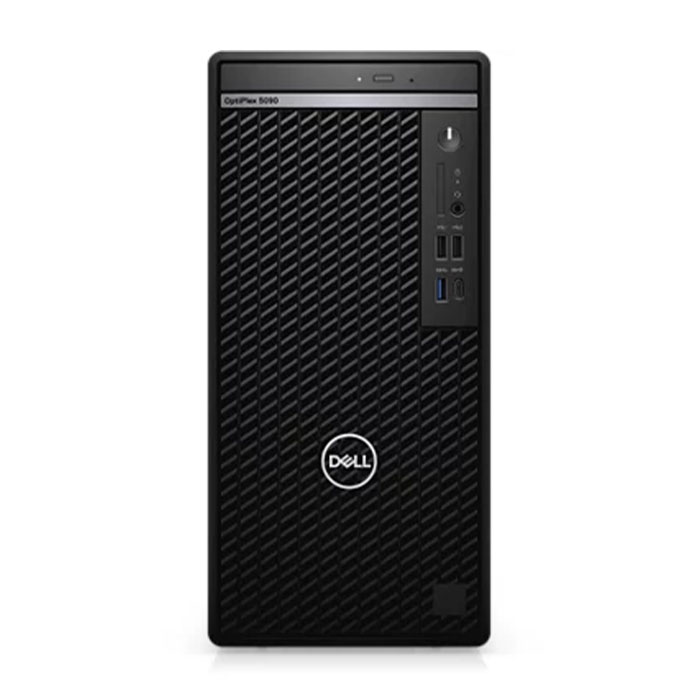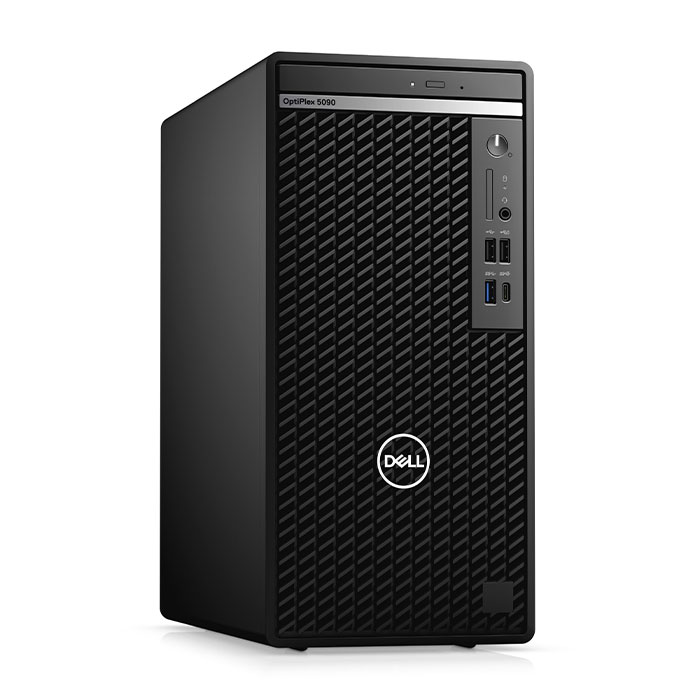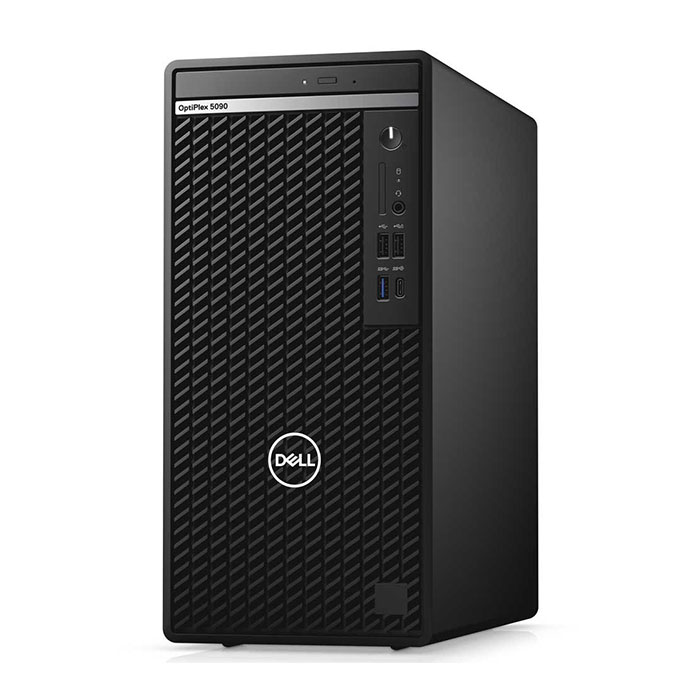 Dell OptiPlex 5090 Tower Intel® Core™i7-11700-4GB-1TB-DOS
Request a quote for prices
Processor: Core i7(11700)
RAM: 4GB
Hard Disk: 1TB
Graphics Card: Intel Integrated Graphics
Color: Black
Compare
Description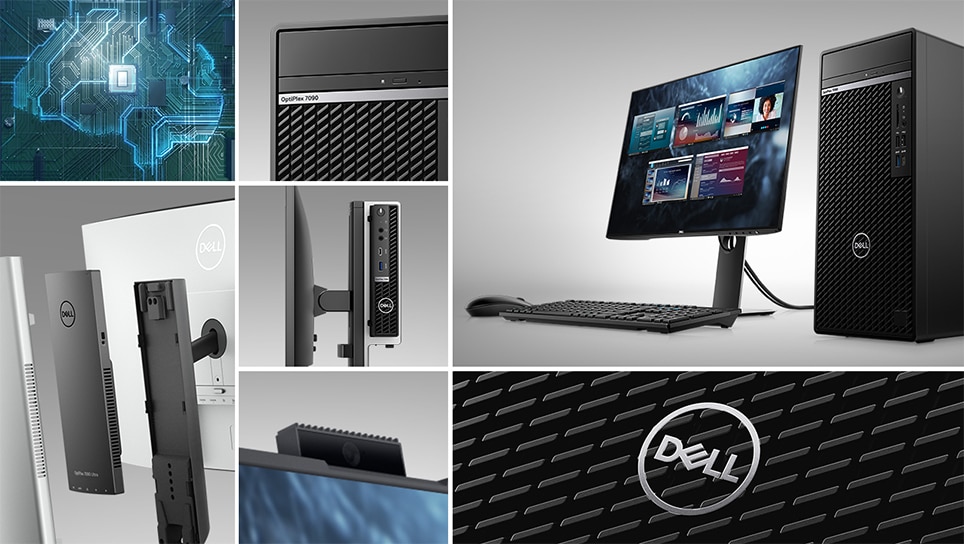 Intelligence you can rely on
OptiPlex has over 28 years of experience delivering customer-led innovation for desktops by continuously creating faster and smarter experiences. Featuring versatile, space-saving form factors with customized deployment options and up to 11th Gen Intel® Processors.1
ExpressResponse:2With Intel® Adaptix™ Technology, prioritize your most important apps, so they open faster and perform better.
Intelligent Audio: Collaborate like you're in the same room. Intelligent Audio enhances your audio quality and reduces background noises, so you can hear and be heard, creating a better conference experience for all.
ExpressConnect: New ExpressConnect automatically joins the strongest access point and directs bandwidth to critical applications, wherever you work.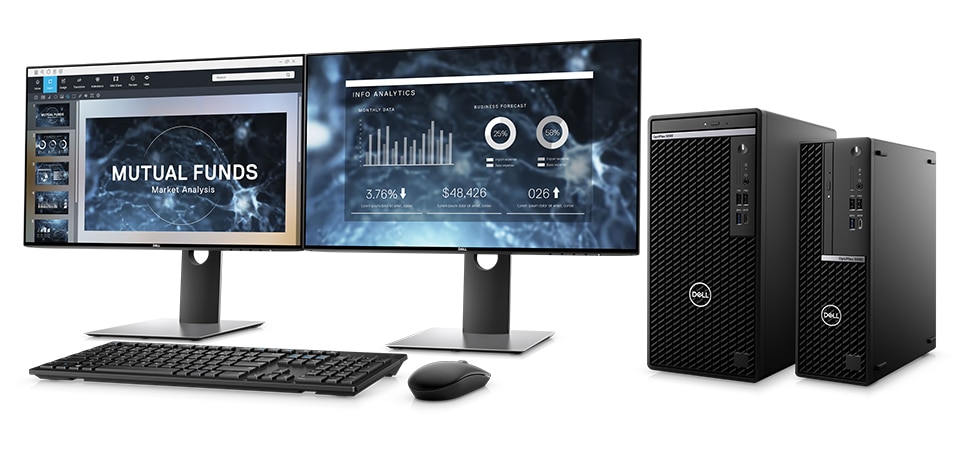 Work smart
Flexible configurations: Embrace new productivity features at the same affordable price you've come to expect. With multiple form factors, you'll find a desktop that works perfectly within your workspace.
Simple to maintain: Easy access to replace parts without the need to remove the front bezel.
Stay cool: Utilizing the shift venting pattern, the 5090 maximizes air intake to keep your system's temperature down.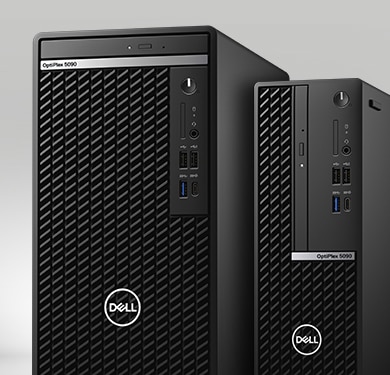 Uncompromising productivity
Power through your work: Built with 11th Generation Intel® architecture, which supports up to Core™ i7 processors for uncompromising performance.
Next-Gen graphics: Tackle entry VR workloads with the latest NVIDIA™ GTX 1660 Super3 and AMD graphics.
High Connectivity: Connect with ease with two native DisplayPort Interfaces with optional VGA, HDMI 2.0b or optional USB Type-C® Alt Mode.
Modernize your experience with Dell Technologies Unified Workspace
Dell Technologies Unified Workspace is the gold standard approach to helping you achieve a modernized endpoint environment and deliver an optimized end user experience. Dell's software and services solutions integrate with current endpoint environments and provide enhanced efficiencies, actionable insights and an optimized experience across deployment, security, management and support.
Gains from implementing Dell Technologies Unified Workspace offset hardware and IT costs4
Advancing sustainability
Eco-Labels: This product is EPEAT Gold and ENERGY STAR qualified (on select configurations). EPEAT registration varies by country. For specific country participation and rating, please see www.epeat.net.8
Products and packaging: Dell Technologies is transitioning to products and packaging made from recycled or renewable resources, and improving products' energy efficiency. We are also working towards reducing our greenhouse gas emissions within our operations and with our direct supply chain partners. Read more about our commitment to sustainability and our 2030 Social Impact goals here.
Carbon footprint: One of Dell's primary goals is to minimize our environmental impact. We aim to reduce the carbon footprint of our products throughout their lifecycle, from development to recycling and everything in between. Learn more about this product's carbon footprint here.

Windows 11 Pro – designed for hybrid work.
The most productive and secure version of Windows yet—but simple for IT.
Learn More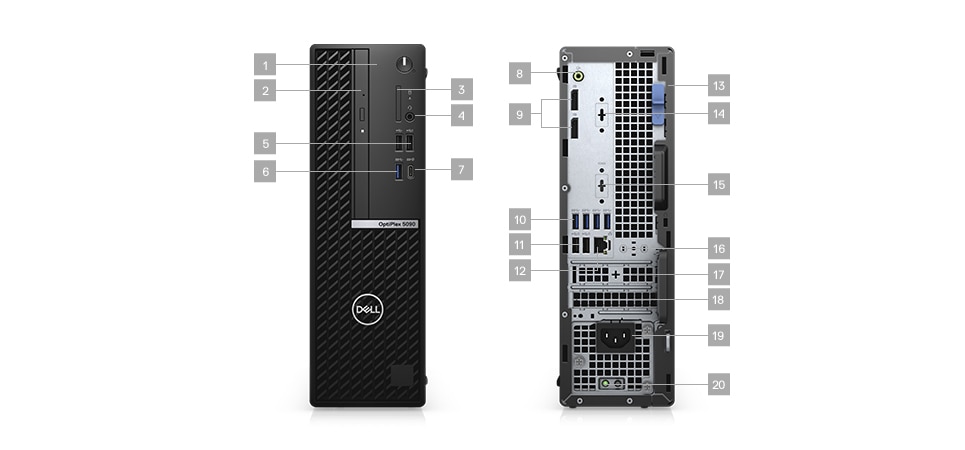 Ports & Slots – Small Form Factor
1. Power Button | 2. DVD-RW (Optional) | 3. SD 4.0 Card Slot (Optional) | 4. Universal Audio Jack | 5. USB 2.0 Ports (2) | 6. USB 3.2 Gen1 Type-A Port | 7. USB 3.2 Gen2 Type-C® Port | 8. Line-In/Out | 9. DisplayPort (2) | 10. USB 3.2 Gen1 Type-A Ports (4) | 11. USB 2.0 Ports (2) | 12. RJ-45 | 13. Slide Panel Release Latch | 14. Optional Port: VGA/DP1.4/HDMI 2.0/USB Type-C® | 15. Optional Port: Serial/PS/2 | 16. Knock-out Slots for Wireless Antenna | 17. PCIe x4 Slot (open ended) | 18. PCIe x16 Slot | 19. Power Connection | 20. Power Diagnostic Light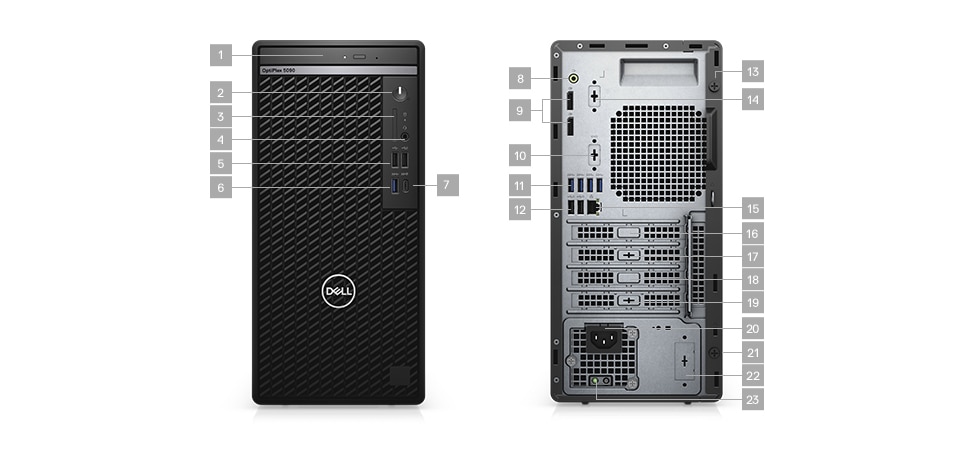 Ports & Slots – Tower
1. DVT-RW Drive (Optional) | 2. Power Button | 3. SD 4.0 Card Slot (Optional) | 4. Universal Audio Jack | 5. USB 2.0 Ports (2) | 6. USB 3.2 Gen1 Type-A Port | 7. USB 3.2 Gen2 Type-C® Port | 8. Line-In/Out | 9. DisplayPort (2) | 10. Optional Port: VGA/DP1.4/HDMI2.0/USB Type-C® | 11. USB 3.2 Gen1 Type-A Ports (4) | 12. USB 2.0 Ports (2) (1 with Smart Power on) | 13. Thumbscrew | 14. Optional Port: VGA/DP1.4/HDMI 2.0b/USB Type-C® | 15. RJ-45 | 16. PCIe x16 Slot | 17. PCIe x1 Slot | 18. PCIe x4 Slot (open ended) | 19. PCIe x1 Slot | 20. Power Connection | 21. Thumbscrew | 22. External Wireless Antenna jack | 23. Power Diagnostic Light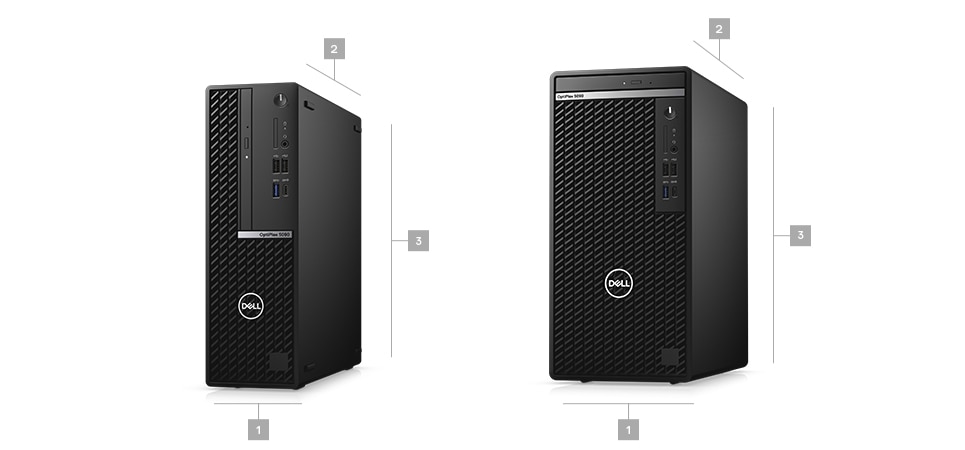 Dimensions & Weight
Small Form Factor: 1. Width: 93 mm (3.66″) | 2. Depth: 290 mm (11.42″) | 3. Height: 293 mm (11.53″) | Starting Weight: 4.43 kg (9.77 lb) | Max Weight: 5.25 kg (11.57 lb)9
Tower: 1. Width: 154 mm (6.06″) | 2. Depth: 324 mm (12.75″) | 3. Height: 293 mm (11.53″) | Starting Weight: 5.03 kg (11.09 lb) | Max Weight: 7.24 kg (15.96 lb)9