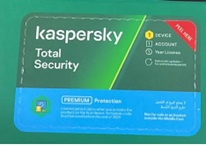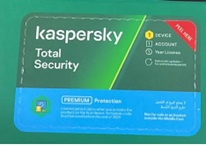 Kaspersky Total Security Multi Device 1 User
Request a quote for prices
Kaspersky Total Security includes antivirus and firewall to protect your devices from viruses, attacks and malware

Your code will be delivered by email with detailed instructions for installing the product The manufacturer does not produce any CD/DVD/Flash drive for this product

Helps you protect your PC, Mac and Android phones and tablets

Secure Connection gives you privacy via Virtual Private Network (VPN) technology

Protects families against viruses, attacks, fraud, spyware, cybercrime and more

Protects your privacy – by blocking phishing, spying and online behaviour tracking

Automatically adds extra security when your family's online shopping or banking
Includes Kaspersky Safe Kids – to protect kids on PC, Mac and mobile devices

Password Manager securely stores website & account passwords – for easy access from all devices. Safeguards precious photos, music & memories – with backup copies & encryption

On installation, you will automatically be given the upgraded version of your Kaspersky product regardless of what it says on the packaging
Compare
Description
Multilayered protection designed to prevent & neutralize malware.
•Real-Time Antivirus Continuously scans your devices for viruses, worms, Trojans, cryptolockers, rootkits and spyware — guarding you from both new and established online threats.
• Automatic Exploit Prevention (Windows Only)Identifies complex network exploits across your PC. This includes the detection of the EternalBlue and SMBloris exploits, both of which can crash operating systems and make your computers unusable.
•Trojan Remover Detects and removes Trojan horse viruses and Internet worms that slow down your Windows PCs and Android devices. This is done automatically, so there's no need for you to manually edit system files.
•Instant Threat Detection Delivers real-time, non-stop analysis of files, applications, and websites across your computers and Android devices, safeguarding you and your data with rapid threat detection.
Prevent unauthorized access & hijacking of your computer and mobile devices.
•Two-Way Firewall (Windows Only)Helps you prevent hacker attacks against your PC by providing you with both incoming and outgoing network request detection. Enabling you to view, assess and manage every inbound and outbound connection that's made.
•Payment Protection Works on your Mac and PC by diverting you to a bank-grade protected browser when you make an online transaction. Preventing your credit card details and financial data getting intercepted by hackers.
•Anti-Ransomware (Windows Only)Monitors your PC in real-time to identify activity that matches ransomware behavior. This enables suspicious activity to be blocked instantly, stopping ransomware attacks from locking you out of your machines.
• App Lock Lets you protect apps on your Android devices by locking them with hack-proof security. Once you protect an app, it can only be unlocked with a private PIN code, by drawing a secret pattern or with your fingerprint.
Advanced scanning to detect fileless malware & Zero-Day threats.
•Malicious Link Detector Works by referencing data from the Kaspersky Security Network to analyse links on webpages you open, informing you about malicious web addresses and color coding individual URLs based on their threat level.
•Malware Defender (Windows Only)Guards your PC from a range of dangerous and sophisticated malware, such as "fileless" malware that is written directly to your PC's RAM rather than to its hard drive.
• Application Control Prevents untrustworthy apps from accessing critical system processes and your personal data.
•Custom Hardened Browser Triggers screen alerts if you attempt to visit sites considered dangerous or potentially dangerous. It makes this assessment using a list of sites that have been attacked previously, and asks you if you wish to proceed or not.
Encrypt your personal & browsing data while stopping cybercriminals from spying.
• Smart & Fast VPNEncrypts data you send and receive with a 256-bit AES cipher, preventing criminals from reading your emails, photos, and bank details. Plus it hides your IP address so your browsing can't be tracked — not even by your ISP.
•Anti-PhishingGuards you from spoof sites and emails created by cybercriminals to steal your identity. It identifies sophisticated scams and sends you warning alerts if phishing activity is detected.
•Private BrowsingBlocks the websites and social network platforms you visit on your Mac and PC from tracking your activities and collecting your private data. Preventing them from targeting you with annoying and intrusive ads.
•Webcam ProtectionStops unauthorized access to your webcam on Windows PC and Mac so nobody can watch you in your home. It alerts you when an app tries to use your website and lets you block unwanted ones or grant permission to trusted ones.
Protection features for your home, Wi-Fi network & peripherals.
• Password Manager Secures your passwords, bank card details and confidential documents in an encrypted vault that can only be unlocked with a main password. Plus it generates strong passwords to help you safeguard your account privacy.
• Network Attack Defender Scans inbound traffic activity for signs of network attacks on your computers. Upon detecting an attack, it blocks network activity from the attacking computer for one hour and sends you an alert with the option of blocking it for longer.
•Ad Blocker (Windows Only)Stops annoying website banners and potentially malicious ads showing on your Windows PC. If you are happy to be served ads by particular sites, you can favorite these so you continue to see ads when you visit them.
• Keylogger Protection (Windows Only)Automatically stops keyloggers from recording your keystrokes on your Windows PC, helping to protect your passwords, bank details and other confidential information when you enter them on your keyboard.